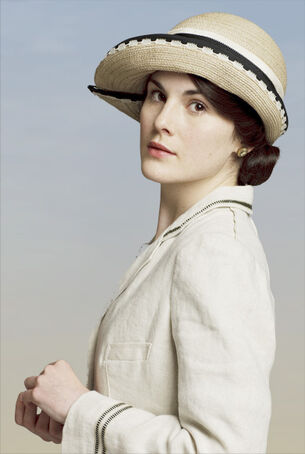 Mary Josephine Crawley
(played by
Michelle Dockery
) is the eldest daughter of Lord and Lady Grantham, sister of Edith and Sybil Crawely. Sister-in-law to Tom Branson, and future daughter-in-law of Isobel Crawley. She was born in 1892. In the first episode, the news of the deaths of her two cousins, James and Patrick, is a shock to her because it disrupts the family's strategy for dealing with the entail that requires the estate, incorporating her mother's large marriage settlement, as well as the title to pass to male heirs. The family had arranged that Mary would marry Patrick, second in line to the title after James, but Mary did not have strong feelings for him and questions whether she must even wear mourning. Early on in the series, she is seduced by a visitor to the house,
Ottoman
attaché Kamel Pamuk, who suddenly dies in her bed. Her infuriated mother and the housemaid Anna help her carry his body out of her room and back to his own in order to try to prevent a public scandal that would ruin her marriage prospects.
Mary's relationship with the new heir, distant cousin Matthew Crawley, begins coldly as she overhears him complaining to his mother that he expects the family will "throw" the daughters at him. Over time, however, the pair grow closer and a romance develops. In 1914, Matthew Crawley asks Mary to marry him, but she is cautious and says she won't give him an answer until the end of the London Season in August. However her mother becomes pregnant, and if the baby is a boy, he will inherit the title instead of Matthew, so Mary refuses Matthew on the advice of her aunt, Lady Rosamond. Matthew is quick to grasp her reasoning and leaves Downton for a time. While he is away, Mary gets engaged to Sir Richard Carlisle, a newspaper magnate who, when Mary confesses to it and asks for his assistance, promises to help keep the Pamuk affair under wraps. They plan to marry in July 1919, after the marriage of Matthew and his new fiancée Lavinia, and to move to a neighbouring, stately home that Sir Richard plans to buy. After Lavinia's death, it becomes clear that Matthew and Mary still have feelings for each other. In 1920, Mary breaks off the engagement to Sir Richard and initially agrees to move to America to live with her grandmother and maid Anna. However, Matthew again proposes to her on bended knee, and the two get engaged.
RelationshipsEdit
Duke of CrowboroughEdit
Unfortanatly for Mary, the Duke of Crowborough is only interested in her for her money and the estate. Mary is very disappointed and takes her anger out on Edith(no surprise there!)
Community content is available under
CC-BY-SA
unless otherwise noted.